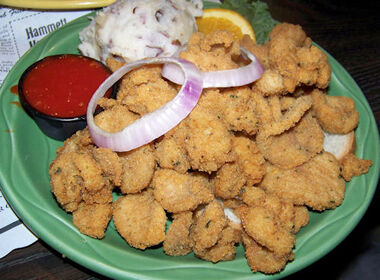 Turkey Fries testicles are served in restaurants in the mid-west of the USA.

Ingredients:
Edit
2 pounds turkey testicles
salt, pepper, garlic powder to taste
hog lard (cooking oil can be substituted)

Directions:
Edit
Split the tough skin-like muscle that surrounds each "oyster." (Use a sharp knife) You can also remove the skin easily if the "oysters" are frozen and then peeled while thawing.
Set into a pan with enough salt water to cover them for one hour to remove some of the blood and drain.
Transfer to large pot.
Add enough water to float "oysters" and a generous tablespoon of vinegar.
Parboil, drain and rinse.
Let cool and slice each "oyster" into 1/4 inch thick ovals. Sprinkle salt and pepper on both sides of sliced "oyster" to taste.
Mix flour, cornmeal and some garlic powder to taste in a bowl. Roll each slice into this dry mixture. Dip into milk. Dip into dry mixture. Dip into wine quickly (repeat the procedure for a thicker crust).
Place into hot cooking oil.
Add Louisiana Hot Sauce to cooking oil (it'll sizzle some, so be careful!).
Cook until golden brown or tender, and remove with a strainer (the longer they cook, the tougher they get).

Enjoy.
Community content is available under
CC-BY-SA
unless otherwise noted.