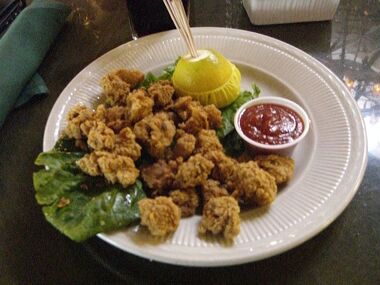 Rocky Mountain oysters
are bull testicles used as food.
They are often deep-fried after being peeled, coated in flour, pepper and salt, and sometimes pounded flat. This delicacy is most often served as an appetizer with a cocktail sauce dip.
Ingredients:
Edit
2 lbs bull testicles (calf, lamb, sheep, or turkey testicles can also be used)
2 tablespoons salt
1 tablespoon vinegar
1 cup flour
1/4 cup cornmeal
1 cup red wine
salt
pepper
garlic powder
bottled hot sauce
cooking oil (for frying) or fat (for frying)
Directions:
Edit
Split the tough skin-like muscle that surrounds each "oyster" (use a sharp knife). You can also remove the skin easily if the meat is frozen and then peeled while thawing.
Soak in a pan of salt water one hour; drain.
Transfer to a large pot and add enough water to float the meat.
Add the vinegar to the pot.
Parboil, drain and rinse.
Let cool and slice each oyster into 1/4 inch thick ovals.
Sprinkle salt and pepper on both sides of sliced oyster to taste.
Combine flour, cornmeal and some garlic powder to taste.
Roll each slice into flour mixture.
Dip into milk.
Roll again into flour mixture.
Dip into wine.
(repeat the procedure for a thicker crust).
Fry in hot oil or fat seasoned with the bottled hot sauce to taste (be careful, it will sizzle when you add the hot sauce); fry until golden brown.
Drain on paper towels.
Serve with cocktail sauce if desired.
Community content is available under
CC-BY-SA
unless otherwise noted.