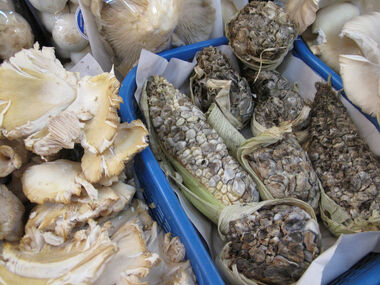 Corn smut (Ustilago maydis) is a pathogenic plant fungus that causes smut disease on maize (Zea mays) and teosinte (Euchlena mexicana). The fungus forms galls on all above grounds parts of corn species, and is known in Mexico as huitlacoche; it is eaten, usually as a filling in quesadillas and other tortilla-based foods and soups.
Ingredients
Edit
1 tablespoon oil
1/4 onion, minced
1 garlic clove, minced
2 serrano peppers, minced
1 (7-ounce) can of huitlacoche
6 to 8 (6- to 7-inch) corn tortillas
1 (12-ounce) package Oaxaca cheese, sliced
Directions
Edit
1. In a medium skillet, heat the oil over medium-high heat until hot. Add the onions, garlic and minced peppers and cook, stirring frequently, until the onions are softened, 6 to 8 minutes. Stir in the huitlacoche and heat until it begins to bubble, stirring frequently, then remove from heat and set aside.
<iframe src='http://www.snappytv.com/snap/kids-talking-about-this-week-at-nasa-education-file-on-nasa-tv?w=480&h=302' width='480' height='302' frameborder='0' scrolling='no' webkitAllowFullScreen mozallowfullscreen allowFullScreen></iframe>
2. Assemble the quesadillas:
Heat a tortilla on the stovetop (this can be done directly on the stovetop or using a
comal,
or griddle pan). Add sliced cheese to one-half of the tortilla, and when it has melted, add a scoop of the
huitlacoche
mixture. Fold the tortilla over and hold in a warm place until all of the quesadillas have been assembled. Repeat with the remaining tortillas. Serve immediately.
Community content is available under
CC-BY-SA
unless otherwise noted.