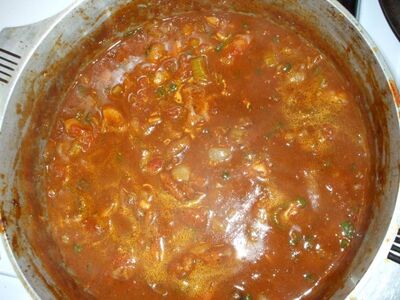 3 lbs. alligator meat, OR (turtle meat or rabbit or froglegs or pork or squirrel or raccoon or any good game meat -- or shrimp or chicken will work nicely as well)
Ingredients
Edit
3 onions
3 bell peppers
5 ribs celery
3 - 5 cloves garlic (or one head Creole hot garlic)
2 fresh mild green chiles (Anaheim or New Mexico) 1 - 2 jalapeno or serrano or habanero chiles (optional)
Oil for sauteing
3 tablespoons oil (for the roux)
3 tablespoons flour (for the roux)
1 can crushed tomatoes and 2 cans Ro-tel tomatoes (if unavailable, use regular stewed tomatoes and add more hot chiles)
1 small can tomato paste
1/2 cup red wine
1 to 1 1/2 cups stock or broth
2 tablespoons Worcestershire sauce
2 teaspoons cayenne pepper
2 teaspoons black pepper
1 teaspoon white pepper
2 tablespoons fresh rosemary leaves,
OR 1-1/2 teaspoons dried rosemary leaves
1-1/2 teaspoon fresh thyme leaves,
OR 1/2 teaspoon dried thyme leaves
Salt to taste
Directions
Edit
If you have alligator or turtle (or whatever) bones, boil them with a quartered carrot, quartered onion, celery with tops and some peppercorns to make a stock. Skim off fat if any and reserve 1 to 1-1/2 cups. Or, you can use a prepared or canned beef or chicken broth, but whatever you do, don't just use plain water.
Dice or cube the meat, then saute in a little oil until browned. Chop and saute one of the onions and one of the bell peppers, and saute until tender. Pure these in a blender and set aside.Saute the remaining onion and bell pepper with the chiles, celery and garlic.
Make a medium, peanut-butter colored roux with the oil and flour, adding a little more oil or flour until you have the right consistency. Add the roux to the sauted vegetables to stop the cooking process, and stir well. Make sure the roux does not stick to the bottom of the pot.
Add the tomatoes, tomato paste, wine and Worcestershire to the sauteed vegetables. Add the onion/bell pepper pure and stir. Season with the Creole seasoning and salt to taste. Cook on medium heat for 10 minutes, making sure it doesn't stick.
Add the meat, rosemary and thyme and cook for 30 minutes on low heat, stirring frequently to avoid sticking. If you're using shrimp or seafood, cook for 20 minutes, then add shrimp for the last 10 minutes and cook.
Serve over rice with French bread and a nice zesty red wine like Zinfandel or Merlot. Yum!
20:56, February 24, 2013 (UTC)68.45.120.254